Selfie of my sister: Number 1 rule -
pose your heart out.
This blog post has been sitting in draft form for AGES. Why? Well it's the next post on
Fat Mum Slim
's
list of
50 things to blog about
,
and I am enjoying pushing myself a wee bit out of my comfort zone by working my way down the list, but on this one I am so far out of my comfort zone I can't even see where it is!
This post involves selfies: whole body selfies. I HATE photos of myself (which I should totally get over, because I want to see myself in my life when I look back). But more than that I hate selfies.
Is there a trick to taking a good one?
According to my sister, if you're doing a selfie (which she does A LOT), you should either grin like a loon, or suck your cheeks in. But that doesn't really cut it for a whole body selfie. I've been trying to do this for ages, and I've decided to go with extreme posing. Don't judge me.
You've got to pose for a selfie, right?
But not tidy up. Oops.
Item 1: my pencil skirt
I always have a pencil-type skirt in my wardrobe, because it's so easy to wear. I'm not talking about the smart ones that you might wear for work, but rather a denim skirt, or a jersey one. I'm tall and fat and find it very hard to find jeans, so this plugs that gap. Worn with a T-shirt or a jumper, it's a go-to wardrobe staple.
I've got a denim one I've had for ages, and it's got a patch on the bum to prove it. But my favourite at the moment is this jersey monochrome one from ASOS curve. I can't find this one on their website any more, but there's a nice black one here.
Item 2: my jeggings
There is a distinct lack of pockets in my wardrobe, which is annoying, because my 'phone is always about my person. I know that choosing jeggings rather than jeans isn't helping the situation. But
I love
these j
eggings from Simply Be. They fit really well, and they're a 34 inch leg (which are hard to find) - they do them in shorter sizes too. Again they are easy to wear with a T-shirt or jumper. Plus, they're black! Other colours are available.
I wish someone would invent a 'phone holster so I wouldn't have to wear a bag all the time. Then the pockets wouldn't matter. I keep thinking that gun holsters look useful.
Any suggestions?
Pic from Moonmaiden
Item 3: my Moonmaiden dress
I absolutely adore this dress, although I can't seem to take a decent picture of it. I've got it in black (surprise!), but this picture is taken from the Moonmaiden website. I'm tempted to get some other colours because this dress is only around £40 (cheaper if you're skinny), and it's MADE TO MEASURE. You can find it
here
on the Moonmaiden website. I've tried a few of these sites, and Moonmaiden is the best quality I've come across to date. Perfect for layering, this is another of my wardrobe staples. With a flattering V waist you can wear it with just a jacket or bolero, but I generally wear it as a very high waisted skirt. Oh, and the elasticated neckline came in incredibly handy for breastfeeding too.
Moonmaiden make lots of gorgeous stuff, in lots of colours. It's only me who's obsessed with black!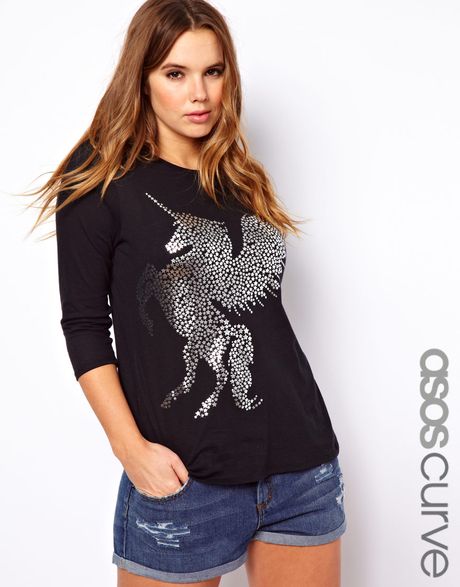 Item 4: my unicorn top
It's not often that one of my cool children would like something from my wardrobe, but the little girl loves this top from ASOS curve. I can't take a photo of this either, so I've used this stock picture. It's washed really well, nice fabric, and it fits well. Result. Sadly, ASOS don't seem to have it any more, but they really do like unicorns there (just not for bigger sizes any more). If you're skinny there are unicorn PJs, leggings, sweatshirts, and for all there are trainers and jewellry. I just don't like any of it very much. Sorry.
Item 5: my cartoon dress
Although I've only recently discovered ASOS
curve, and, truth be told, I found a lot of the things from them to be a bit rubbish on the fabric front (one of the problems with having to shop online so much), my utmost favourite item at the moment is from there. I adore my
cartoon dress
, which is colourful and bodycon, and made out of some synthetic stuff which is very figure hugging. I always wear this with some sort of jacket on top, and usually some fun jewellery too. But if I'm going out, I always seem to be wearing it. It's going to be difficult to top for sheer feel-good factor I'm afraid. Plus it's colourful. See - I can do colour (although not tidy up).
So that's me, I've told you my top 5.

What's your favourite thing in your wardrobe right now?
You can find the rest of the posts inspired by Fat Mum Slim's list of 50 things
here
, but here's some suggestions for other posts you might like: