April! Thank goodness that the rain seems to be sputtering out! I wish I didn't have to live in Scotland through the winter, but perhaps it makes the bright days better?
Right now I'm:
Sitting by myself at the kitchen table. I'm enjoying the stillness. I've just finished reading Mary Beard's Women & Power, which was excellent and raised really interesting questions. The cats have just gone out for their evening stroll, the boy is watching part of a Marvel film before bed, my husband is just home from working away (yay!), and he's just put the girls to bed. I'm about to nip up an kiss then goodnight.
Currently reading:
My attention span is not all it could be at the moment, so as well as reading Mary Beard's book (which is a really quick read), I'm dipping in and out of things I've read before. Right now on my bedside table are two books I'm revisiting: Nasty Women, and The Forgotten & the Fantastical 2. Nasty Women is short essays and Forgotten & Fantastical is short stories so they're both awesome for a me with very little brain (if you do see my brain, let me know). They're also awesome because of the content. These people can write!
I've had trouble with my phone data storage lately, so am currently only able to listen to podcasts and whatever I've downloaded from Amazon.
Five of my favourite podcasts just now are:
Looking at those when I went to get you the links I noticed how white and male the people doing most of them are. There are exceptions, thank goodness.
And my five most recent downloads from Amazon are:
I'm pretty sure I've shared the video of In the End before, so today I'll share this one:
As I write this though I'm not listening to any podcasts or music, because I can't concentrate when I'm listening, even when it's something as simple as that... instead I'm listening to my daughter reading a book about Vikings, and trying to keep her on track.

Having fun:
I am not having fun with the homework! But lately we've had a good Easter break despite mainly rubbish weather, with lovely visits from my sister and my Mum. We went through to Edinburgh with my sister and visited the Camera Obscura and World of Illusion (more on that coming soon to Scotland 4 Kids magazine). Below are my sister and the weans in the Ames room.
We took my Mum (who is adept at avoiding cameras to Wemyss Bay's gorgeous train station, where we found one of my poems as a poster on the platform (thanks Poetry on the Platform!).
We also went for a walk at Lunderston Bay but it was chuffing freezing! The photographic evidence is below though, and you can see my Mum (with her pink hair). I think my lovely husband is telling everyone where a power station that never worked used to be. Exciting stuff.
Now the weather is getting better and it's freaking marvellous to be going out and about again. My husband has been working away a bit and today he had the day off and we meandered down to town for a real treat of a lunch. AND the weather gods dried all the sheets I stripped off all the beds this morning. It's the little things!
The guinea pigs are happier too - getting out on the grass way more often, although Scruffy's nails need cut and he's a vicious little thug when he wants to be 😒 Wish me luck!
I was taking part in #Aprillove2018 led by the fabulous Susannah Conway but as part of my general distractedness lately I keep forgetting about it. Just looking at it now I wish I'd got as far as dinosaur, so I could share my dinosaur tanka, but we're nearly out of April already! Well Allison Sadler is starting a new photo prompt thing in May, and hers are always quite open and lovely so I'll do that one instead, and I'll just share with you my dinosaur tanka:
Obviously this tanka is about a blue plastic dinosaur, but the reason I wrote it was that although my kids have had plastic dinosaurs, none of them were blue, they were all the greeny/mud kind of colours that little plastic dinosaurs you get in toy shops generally are these days... but, I'm sure that this plastic dinosaur (which has disappeared again, but will come back) came out of a cereal packet when I was little. That's ages ago, and I might be mixing my own life up with Charlie and Lola, but it's got to have come from somewhere! Right?

Perving over: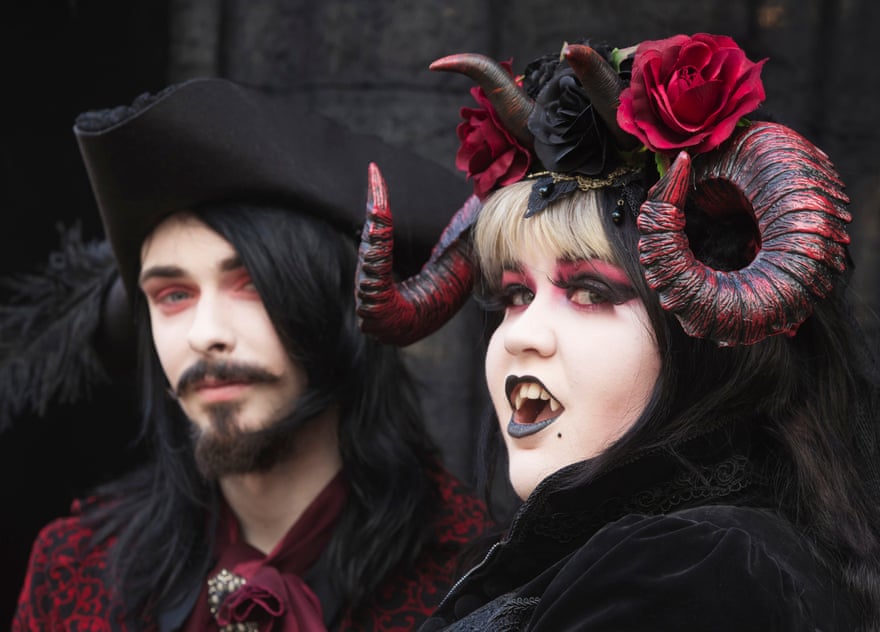 I'm free of individual pervations just now, but totally loving the Goth look - the pretty Goth look, with a lot of clothing, black hair and perfect makeup. I haven't been to Whitby Goth weekend for aeons but I'm loving getting a glimpse of it from these pictures in The Guardian. You'll need to follow the link for bigger images, but I'm including a couple of wee ones just to give you a hint of the gorgeous textures this chap has used, and echoed in his hair, with beautifully understated red eyeshadow and an immaculate beard (his girlfriend also has a rather nice velvet coat, and lovely matching lipstick). And if you get on to picture 5 forget what I said about wearing lots of clothes. Is it hot in here?
We're getting excited about our forthcoming summer holidays and about a guest who's coming to stay with us in the academic new year.
I'm really inspired by what Mary Beard said in Women & Power. I do feel that efforts for equality have done a lot to bring women out of the private realm and into the public which used to be reserved for men, but there are still the dishes to be done, the project isn't complete until we can improve the status of work that's traditionally been considered women's, and bring men more into the private sphere. Not so they get congratulated for looking after their own children, but so no-one bats an eyelid about it.
Also, Mary pointed out that our power structures were designed solely for men, just letting women into them may not be all we need to do, perhaps they would have looked different if women had been in power? Perhaps we need to change the fora? Are women really more discursive? More collaborative? Or have we learned to be that way from a position of powerlessness?
Less politically, we've briefly got Netflix, which it seems is sooooo much better than Amazon Prime, but maybe that's because we've only got it for a month? What's your experience been? Right now I'm binge watching Jessica Jones (about to start S2) and Stranger Things (finished last night - didn't like S2 as much as S1, and the whole running away bit seemed a little pointless - is that just seeds for spin offs?).
See above - Jessica Jones & Stranger Things

I got sucked back in to America's Next Top Model. I really like Law, and I love Khrystyana - who, BTW is amazing on Instagram. I got spoiled on who won 😔 so I haven't watched the last ep yet, but it's waiting for me.

The Good Fight. I miss The Good Wife and this will have to do. I know Alan Cumming is busy doing some other American programme, but there's room for Eli Gold on The Good Fight. COME BACK ALAN!
I'm working on a lighthearted Scottish history book for kids. This is a crackers thing to decide to do, but I couldn't find the one I wanted and I'm loving the shed loads of research that's taking over my life. Is it weird that I want to re-enact history through the medium of The Sims? Oh! I could totally create Sims characters from Scottish history and make them available to other weird obsessives. Taking it too far?
I did just tell someone the other day that I don't do kids books. It feels more like this book is doing me. Hopefully I'll bring it together and find it a wee home that will work better than my previous book-length attempts. If not, I'll just make The Scottish Sims and they'll be fabulous.
lower dining hall
Everyone has now moved into the new school. It hasn't been easy for the girls who are still in primary and have merged with another school, got new teachers and loads of new classmates, along with the new school. It's been stressy, very stressy at times. But the facilities are amazing, new friends are being made, and apparently the teachers aren't totally terrible 😉 Things are still getting worked out, and lunchtime still needs to improve, but it's getting there. My boy is in the Academy and the only things that have changed for him are that now he's in a fabulous building with amazing facilities (and stairs, a LOT of stairs, he's going to have amazing thighs).
I got to go on a tour of the new building this week, and I would love to work there, it's such a useful space, with places to work all over the place, so you're not tied to being in a classroom (and that includes the teachers). The lighting is like daylight - bright and clear and so far removed from horrible strip lighting. The kids are still getting used to the building, and there is the occasional traffic jam, but I'm sure that'll get ironed out.
Also, you should see the school library, it could be bigger, but I would love to work in that library (if anyone was looking that is!).
That's me for April, getting in under the wire! What are yous up to?